As we all know, American Ninja Warrior is a very famous sports entertainment reality show. It features thousands of competitors attempting to complete a series of obstacle courses of increasing difficulty in various cities across the United States, in hopes of advancing to the national finals on the Las Vegas Strip and becoming the season's "American Ninja Warrior". So far, only a handful of people have won this obstacle course!
Once, these obstacle races made my blood boil, and I really wanted to challenge it! But, you know, I don't have much time and I need to work, so I can't challenge it. However, since I got the Ninja Warrior Obstacle Course Kit, I try to challenge it almost every day after get off work! 
Now to show you my Obstacle Course Kit!


Haha, obviously the people in the picture are not me, but my children. Here's a photo I took of them over the weekend.
This obstacle course kit is very easy to install, the whole installation process only takes 5 minutes! Just need to find two big trees, tie the webbing to the tree, then hang the square buckles and accessories of the hanging accessories on the webbing, and adjust the distance between the square buckles according to the distance between my child's arms.


There are many types of accessories for my obstacle course, including swings, wheel obstacles, monkey bars, etc. And their colors are very rich, there are yellow, red, green, blue and so on.
My kids absolutely love playing with them! They like to swing in their spare time. Also enjoy using wheel obstacles to develop their arm strength and stamina.
Not only children can play, but adults like me can play too. It has a capacity of 440 pounds! You can play it with confidence!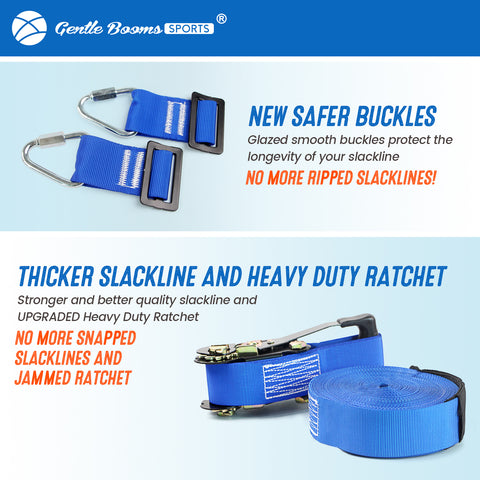 Its quality is also very good, it is made of high-quality plastic, hard and thick webbing, and ABS buckle. Durability is very strong! You don't have to worry about playing and breaking. When challenging the obstacle course, you can relax and play it as much as you like.
However, be careful not to use acid corrosion kits.
Well, the above is what I share with you. If you want to know more about Ninja Warrior Obstacle Course Kit, please click https://www.gentleboomsports.com/collections/ninja-line-kit