Are you looking to buy ninja lines for trees, but aren't sure where to begin? Some of the most common questions that our customers have are - What measurements do I need? How do I know which line to buy?  Do extra large trees make a difference? Can we still use the line if we don't have trees in our yard?
 We have all of the answers! Lets start with the basics.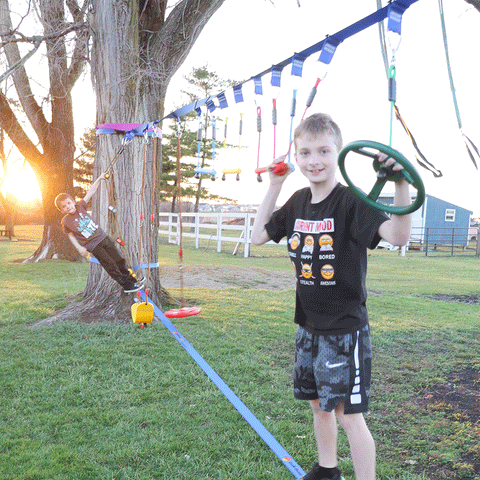 Figuring out which line to buy:
When figuring out where you are going to set up your ninja course, you will first want to find 2 healthy trees that the line will hang between. In order to ensure that you are purchasing the correct length of line, you will want to measure the circumference of both trees, and add this total to the distance between the two trees.
Circumference of Tree #1 + Circumference of Tree #2 + Distance between trees 
Keep in mind that you will want a few feet of spare line to be able to tighten the line using the ratchet system. If you have two trees that are each 3 feet in circumference and 26 feet apart from each other, the 36' kit will work perfectly in your yard, leaving about 4 feet of line to tighten the ratchet.
We have 56' and 65' lines that easily attach to any of the kits. Find out which one works best for you!

Also, don't worry that the webbing will hurt the tree, because we have specially prepared tree protection. Putting the tree protector over the tree and putting the webbing on it will protect the tree well.

We have prepared a lot of ninja lines for trees, each ninja line kit has a variety of accessories, such as triangle rings, circular iron rings, swings, climbing ropes, monkey poles, etc. These accessories can enhance your gaming fun!

For more details click