Spring is here as expected. As the temperature rises, we are more than happy to get outside and play.

So what's the better thing to play? Many get stuck in a tangle.


Here I come to introduce you to an outdoor play kit, can meet the needs of the whole family play!

Gentle Booms Sports Ninja obstacle course has 56 feet or 65 feet of webbing to choose from, you can hang many kinds of accessories, such as swings, fitness rings, climbing rope, etc.. This course is also equipped with a square buckle and lock, the square buckle is removable, so you can adjust the distance between the accessories according to the length of your child's arm. In order to protect the tree, we are specially equipped with a tree protection sleeve, just put the tree protection sleeve on the tree, and then install the webbing can be.

"Ninja Obstacle Course" is one of the outdoor activities that children love to play, because the continuously spaced obstacles prevent children from getting stuck in the fresh air. Children gain confidence when they are able to demonstrate their strength on an obstacle course. Here are some of the most important factors.

The unique Slackers locking system makes it quick and easy to install, so you can easily take it to the park, a friend's house, camp, or anywhere else you want to train. The kit comes with a lightweight drawstring backpack for easy storage and transport.

The Gentle Booms Sports Ninja Obstacle Course uses a 56/65 foot x 2-inch professional slackline that can hold up to 440 pounds, so the rope can also be used as a slackline to train balance, core and lower body strength, and agility. The unique locking system is steel reinforced. Gentle Booms Sports Ninja obstacle course is reinforced with a sturdy steel core and handles with comfortable rubber grips.

It can be mounted between any two sturdy anchor points. Although it was originally designed to hang from two full trees, the rope has been tested and approved for setting between two wooden poles on a concrete floor. It is advisable to consult an engineer or contractor for installation specifications to determine the correct load strength of the wooden poles.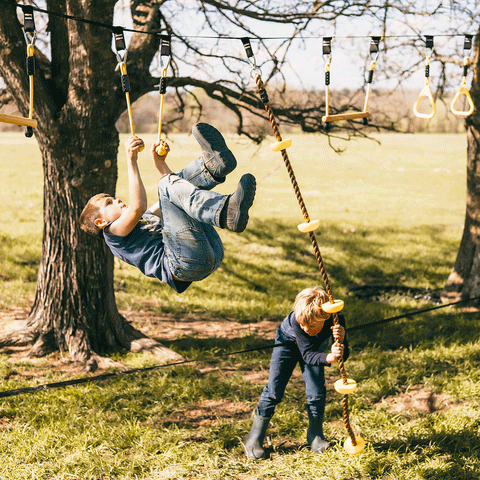 For more amusement facilities, please check https://www.gentleboomsports.com/collections/ninja-line-kit